This text was translated from Google Translate.
Jean-Jacques Galinier
Jean-Jacques Galinier has a passion for martial arts and Chinese energy arts. Since the age of 10 he was attracted by Asia and the knowledge it has generated in its long tradition.
In 1982 he began studying Yang style Taijiquan. Since 1984, he studied with a Western Master "Universal Knowledge, named Métamatique" by its creator William Arnaud. With him, and he studies the different philosophical and metaphysical currents, the great religions, history and the humanities ... and continues this work within development for over 30 years.
In 2005 he met Master Ding Dahong and officially becomes his heir disciple in 2006. That same year he was recognized "renowned master Taiji Quan Shi Ming" by a committee of experts to Wenxian Masters-China (capital of Chenjiagou , historic cradle of Taiji Quan).
Jean-Philippe Giudice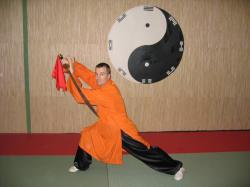 Begins practicing KUNG FU WU SHU in 1986. He obtained in 1993 the federal instructor to grade FKFWS black belt. Many styles studied over the years, such as CHANG QUAN, NAN QAN, and WING CHUN, to mention only the great families.
In 1993, he also met Master Agnouba CELLHACS, in Ivory Coast, with whom he deepened his work the traditional gong fu, and strengthening external labor.
In 1995, after the meeting of shaolin monk SHI DE YU, he decided to found his association (law 1901) CHUAN TAO SHU, to promote the gong fu shaolin. He began teaching kung fu in 1996, the TADAMY FORM dining Colomiers.
Since 1998, he teaches Shaolin gongfu complementing the Chinese disciplines offered by AMBC.
Katy Barcelo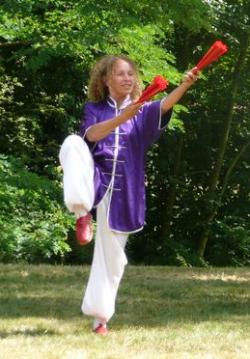 Passionate Self-knowledge and philosophy of Tao, Katy Barcelo meeting there over 30 years Arnaud W. researcher in the fields of Humanities and specialist I Ching "previous Heaven," with which she continues to study.

Some time later also motivated to give a more personal direction, it starts Taiji Quan Yang style with Jean Jacques Galinier and discovers all essential structural principles of Taiji as rooting, verticality, fluidity, presence while practicing parallel for a few years the Tang Shu Tao.
Ongoing training continues once the practices of Chen style of Taiji, Taiji sword, Qi Gong Taiji and she met with the range it will continue a few years later to develop with the Master Zhang Aizhen.
She has made several trips to China and actively participates in workshops and lectures given by the Master and Master Ding Dahong Zhang Aizhen during their frequent visits to France in the dojo Blagnac invited by Jean Jacques Galinier referent disciple of the Master Ding Dahong.
He holds a Certificate of Professional Qualification Certified Youth and Sports, she teaches in the Martial Arts Association Contact Bio since its creation in 1993 and in various structures Yang style Taiji Fan and Taiji Sword.
From 2004, she trained at the Dance Therapy and transmission. Many practices enrich this path experienced as complementary to Taiji: whirling dance (Dervish), 5 rhythms dance, Butoh dance, shamanic dance, meditative dance ... so many explorations in the outer movement as inside. Katy is a member of the International Dance Council (CID Unesco).
Annie Tropis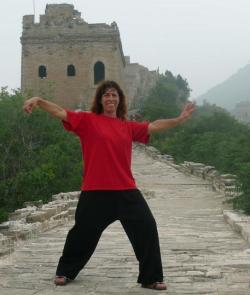 Annie Tropis practice taiji since 1991 with Jean-Jacques Galinier. She obtained a degree in sports Performer 2000 with the EPMM, validated Professional Qualification Certificate approved by the Ministry of Youth and Sports.
Annie Tropis is interested for more than 20 years in China's energy and knowledge of the previous Ching Heaven.
She assiduously Taiji Quan Yang style, Chen style and Qi Gong for ten years, continues to take courses and courses with Jean-Jacques Galinier, is exercised also to the sword Yang and Chen style and has good notions Tui Shou and martial applications. She also participated in numerous demonstrations (Night of Shaolin, etc.).
In addition, she completed two internships in China, organized by Jean-Jacques Galinier Dahong Ding with his master, and attends classes and workshops offered at the regular goings of the Chinese master in Blagnac.
It is a follower convinced that the study and practice of Taiji Quan bring their health benefits at all levels (physical, mental and spiritual); his conviction is based on his experience.
Stéphane Massip
Stephane begins to enter the world of martial arts to 14 years by practicing for 2 years the VietVo Dao, where teaching was old (held positions with blows of bamboo, jumps and somersaults outside on tar, earth).
At 16 years, he returned with Thai boxing but this was short-term (1 year), because people who were in the club, they were there to fight, it is not really found in this state of mind .
In 1987, at age 18, seeking to practice nonetheless an activity, he made the meeting by Jean-Jacques Galinier who taught Taekwondo.
Stephane was taught by Jean-Jacques since.
It could therefore appreciate all the changes in practice, through Taekwondo, Tai Kuen to the Tao, then to the Tang Su Do, and eventually Tang Shou Tao practice, where it takes a real pleasure in exercising Xingyi Quan and Bagua Zhang.
Stéphane also loves the work of struggle.
In 2006, he participated in training Master Su Dong Chen.
In 2007, training in the French Federation of "Physical Training in the Modern World" (FFEPMM) and gets the presenter patent ESL option CQP "opposition team sports and games."
In 2008, he taught at the side of Jean-Jacques practicing Tang Shou Tao (Tai Chi martial)
In 2009, Stéphane discovers, on the occasion of a seminar organized by the association Yizongbagua Nimes, the teachings of Master Luo De Xiu, whose styles are close to those practiced Stephane. Since then, Stephane participates annually in the seminars of Master Luo Dexiu in Nimes, rich in content and teaching courses. His consistency and diligence led him in 2012 to formally request Master Luo to accept him as a student and to integrate its school.
It is with great pleasure and honor since 2012, Stephane joined the Yi Zong school thoroughly studied with Master Luo and transmits his knowledge in his classes.
He hosted meetings / style exchanges with friends as school clubs "YizongBagua Nîmes" Kung Fu Shaolin school of Toulouse, the club Kung Fu Jean-Philippe Giudice
He was pleased to participate in production in May 2006, 2 DVD devoted to the Bagua Zhang.
Pierre Lefebvre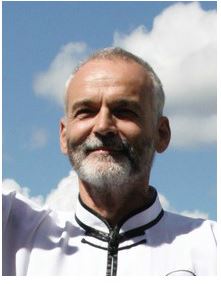 Pierre Lefebvre practices martial arts for 36 years, beginning with Karate Shotokan in 1980 and decisive meeting with Chinese martial arts in 1983 from working styles
Choy Li Fut, Hung Gar, Chang Chuan, Tang Lang and finally Wing Tsun
Competitor medalist fight twice (France Cup, the championship of France), European Championship Taiji in Venice in 2012 (read Tao silver medal per team), participation in a competition Taiji in China in 2013 in Wenxian, 1500 participanst 5 European, 11 of 65 read tao Chen and 17 of 65 read tao Chen sword.
JEAN JACQUES disciple GALINIER in TAI CHUAN JI since 2003, Yang and Chen style (School of Beijing), practice sword, stick, spear and double daggers.